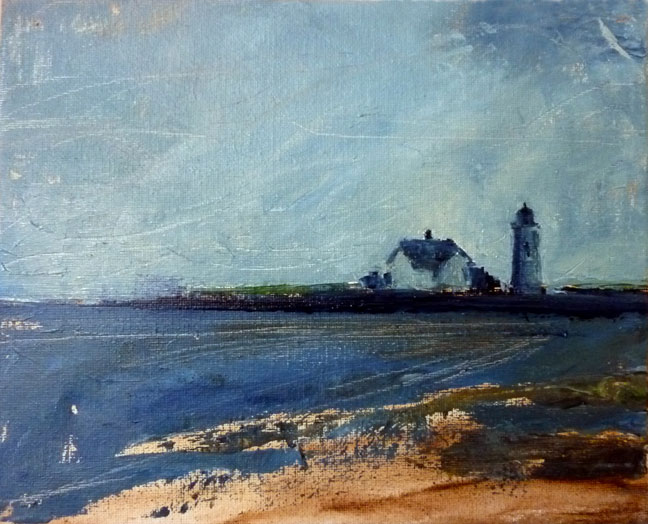 Joe Trepiccione, Race Point, 8 x 10, oil on canvas
Fascinated with the broad open landscapes that are the Province Lands and its structures, Joe Trepiccione's paintings are truly inspired by the beauty of the outer Cape. The paintings offer a vast array of color, light and depth of earth and sky. Yet they are comfortable, and controlled and pull the viewer in and beyond to the horizon.
Trained in the Old Masters style, Joe Trepiccione captures the tranquility and openness of the land with a palette of russet, amber, yellow ochre and hues of green. The viewer is transfixed by the dynamics of the sky – you can almost see the clouds moving over this varied topography. This is a body of work that beckons you to come, explore and experience the wonder and beauty.
Joe Trepiccione graduated from Paier College of Art / The Whitney School of Art, New Haven, Connecticut, where he studied the classic arts and specialized in the field of children's book illustration. Joe lives in Charlestown and for over 30 years in Provincetown. He is a founding member of the Artists' Group of Charlestown, Inc. and the StoveFactory Gallery and Studios; and also an active member of the Provincetown Art Association and Museum. He has been represented by the Hutson Gallery since 2010.
Represented by Hutson Gallery, 432 Commercial Street, Provincetown
508 487-0915