Selina Trieff
(Born 1934)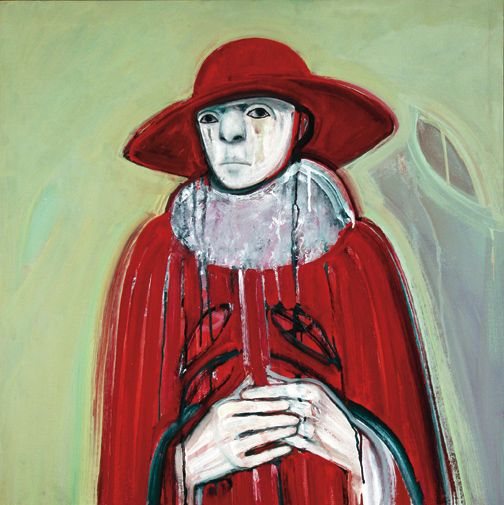 Selina Trieff , "Crying Cardinal", 2002, Oil on Canvas, 26" x 26" - Private Collection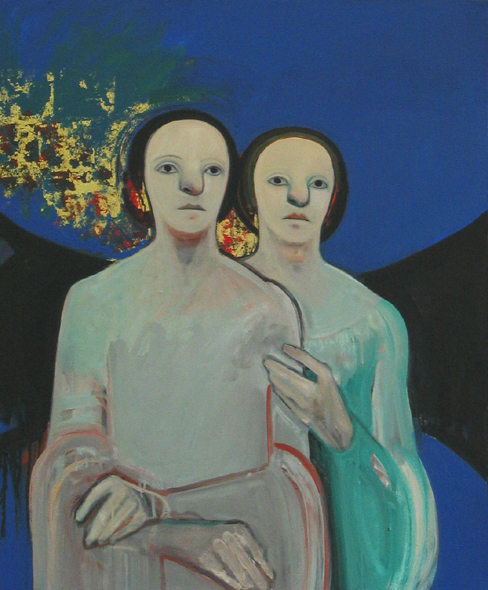 Selina Trieff , "Two Figures in Blue "
Collection of the Town of Provincetown
Selina Trieff's recent paintings are accomplished with characteristic bravura, despite the artist's increased frailty. Compositions keep to two or three figures or single heads, "each one stamped with the artist's own features like identical funeral masks," wrote Maureen Mullarkey recently in The New York Sun. Continuing, Mullarkey wrote:
Selina Trieff uses color for the exhilaration of it, creating opulent friezes that whisper of mortality. A student of Hans Hofmann's school in the 1950s, Ms. Trieff has gone her own way, ignoring the realist path of most other figurative painters. Her life's work is a metaphorical, painterly cosmos that unsettles and delights at the same time.
Called "an American original" by New York Times art critic John Russell, Trieff generates allusively gripping figurative compositions, abstract images in oil & gold leaf, richly pensive, introspective, strangely self-like. The subjects distilled to their essence in rich fields of color, reveal an entrenched passion for the push/pull technique of painting she first learned from Hans Hofmann. Trieff goes back to the same format in her work, but each return is a very different experience, an ongoing meditation of the human spirit through color and paint.
Trieff creates deep passages of beautiful emptiness on her canvases. Her use of color is luminous and jewel-like, bringing to mind medieval stained glass windows and early Renaissance alter pieces. The gold leaf evokes the heightened spiritual presence in religious iconography. Her formally arranged figures are poised in a moment laden with private emotion. Always reserved, they possess a formality that seems to offer them emotional distance, safety. Still, they call to the viewer from that distance. The work is the center, so to speak, the point of meeting in a relationship with the audience, a three-pronged relationship -- the painter, the figure, and the viewer. "The figures are guarded, but they are also vulnerable," Trieff says. Like the artist in the harsh world of earthly experience, they are archetypal pilgrims wandering, searching for a home place."
Born in Brooklyn in 1934, Selina Trieff studied with Hans Hofmann in New York and Provincetown, Mark Rothko and Ad Reinhardt at Brooklyn College, and Morris Kantor at The Art Students League. Of her early experience at Brooklyn College the artist has said: "From Reinhardt and Rothko I learned that art is a philosophical exploration and that art making involves a mysterious process of self-discovery."
Trieff and painter husband Robert Henry spend summers in Wellfleet and winters in their native Brooklyn. Both teach at FAWC, PAAM, and Castle Hill. Trieff's work has been exhibited across the United States and in Europe, and is included in such public collections as the Brooklyn Museum, Kalamazoo Art Institute, Bayonne Jewish Center, Snite Center at Notre Dame, Citibank, New York Public Library, Best Products, and Provincetown Art Association and Museum. She is represented in New York by the George Billis Gallery and the Ruth Bachofner Gallery in Santa Monica, CA. Trieff was the subject of a major exhibition at the Long Beach Museum of Art in California and received a catalog grant for that exhibition from the Richard Florsheim Art Foundation.
She has been represented by Berta Walker for over 20 years, ever since Walker presented Trieff in her first one-person exhibition at Graham Modern Gallery in New York in 1985.
© Berta Walker Gallery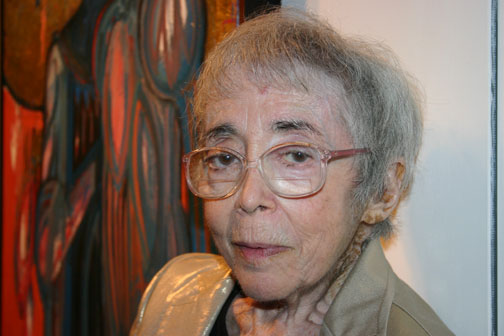 Selina Trieff, 2007 retrospective exhibition opening at the Provincetown Art Association and Museum. Photograph by Ewa Nogiec. For more photographs from Selina's opening visit iamprovincetown.com.
Represented by Berta Walker Gallery, 208 Bradford Street, Provincetown, MA 02657
tel: 508 487 6411
www.bertawalker.com