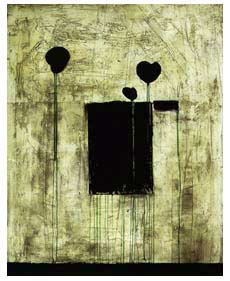 TJ Walton: Non Sequitur Sequential Detachment
By Margaret Bergman
With her studious black-rimmed glasses, chin-length hair, and green Mao Tse- tung style tunic worn over simple black pants, T J Walton looks anachronistic and fresh at once, a "young modern" much like a 1950s "girl painter" that made the scene in New York's downtown art world.
Often she wears green, tinted the color of money, and black--the colors she favors in most of her paintings, whether the motif is a horse, tea cup, boat, or vase of flowers.
Walton began painting in Boston while she managed an art gallery. In the late '80s she came to Provincetown on vacation, never to leave.
The daughter of a firefighter and a bartender, Walton grew up as Tammy Jo in a struggling working class neighborhood in Newburyport, Massachusetts. Although she credits her mother as being the creative force in her life, Walton's grandfather built her her first easel.
She nearly dropped out of high school and drifted for several years before picking up her first paintbrush. "Never in my wildest dreams did I think I would own anything, not even a bicycle," Walton said in connection with her recent purchase of the Daniel Cleary building at 153 Commercial Street.
Walton is at the forefront of a new movement of self-taught artists who prefer to learn by trial and error--listening to her inner artist's voice rather than be heavily influenced by a mentor or a "school of art."
Six years earlier she opened the T J Walton Gallery in the West End, the first gallery since Paul Kessler in the '60s to locate in that end of town. Many more galleries have since followed. "People told me it wouldn't fly because I wasn't in the gallery district," Walton said. "I had an excellent year. Mine is a hopeful profession. You hope you'll be good. You hope that you make good work and that people like it."
Her canvasses are much like her personality: colorful, high spirited, determined, and appealing. She is best known for neo-figurative paintings of horses that capture varying moods of the noble beast. In 1999 she won the Young Artist's National Competition at the Provincetown Art Association and Museum; the following year she had a one-person exhibition, as each year's winners are offered annually for the next season's scrutiny.
Currently Walton is finding ways in her work to suggest the feeling of floating. In one painting, a charcoal-black horse is surrounded by several white airborne balls; another depicts white flowers without stems bobbing like little half moons above the neck of a sea-green vase, while a couple of beheaded flowers seem to sleep at the base.
Walton's impulse is poetic, not derived from a desire for descriptive narrative. She knows that a single beheaded flower can conjure up more emotional energy than a more detailed landscape.
Her studies of flowers, horses, and boats are spare in line, yet her color is generous. She is clearly a painter who loves paint. Lately Walton has mixed her two loves, painting and poetry. Her form is a "mixed-media journal" salvaged from used children's books purchased at library sales and flea markets. She creates a new surface for the written work by preparing the pages with white gesso.
Her poem, "Gliding," is inscribed into this juicy surface: I am beginning to prefer the state of my dreams Nearly every night now and Always upright I glide on a sheet of ice that drops before me with the whim of my direction Like spot rain it appears and disappears behind me as if to say "I am here just for you" Sketches, paintings, pasted flowers, and little notes such as, "If Madonna calls, tell her I'm not here," appear among the pages of poetry.
"I call the books a kind of non sequitur sequential detachment," she explained. "It's a rescue situation."
----------
©2001 Provincetown Art