N. Cameron Watson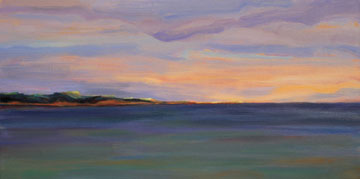 I work in a variety of media: oils, sumi-e, watercolor, and collage, as well as pen and ink for children's book illustration. The underlying constant is the drive to draw on that elusive, powerful inner self that lurks in all of us. When painting, I try to suspend the analytical side of my brain in favor of the intuitive.
My inner self thrives on the bounty and beauty of the world around me. There is an awe for the natural world, and for the capacity of humans to experience all the joys and sorrows that their complicated lives deliver. In being a part of it all, one feels completely alive. It is this energy that I want to tap into, that I hope will give power to each piece I create.
When I work, the creative process begins with the challenge of moving colors and shapes into a strong composition. Then, at a certain point, the piece simply takes over. It acquires a life of its own, quite apart from me, and all I can do is listen, look, and follow. When this process is successful, it seems that, mysteriously and out of nothing, something new arises and goes forth.
Represented by Alpers Fine Art, Andover, MA
artist tel. 508-349-6747, www.ncameronwatson.com