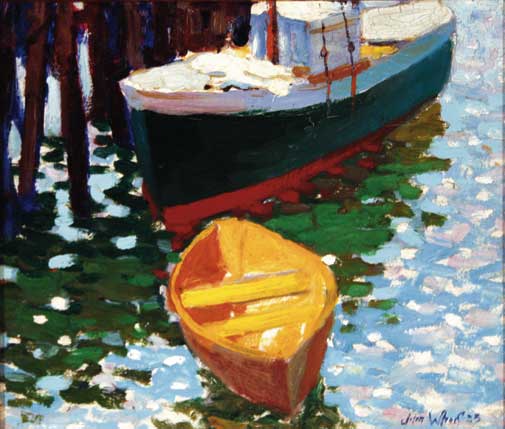 John Whorf, Untitled (Boats Along Wharf), 1925
oil on canvas, 15.5 x 13 in. Private collection.
John Whorf (1903-1959)
A native of Boston, John Whorf became a noted watercolorist known for his depictions of genre subjects and views of harbors and beach scenes. During the Depression years in Boston, he was one of the few artists whose work continued to sell.
He was born in Winthrop, Massachusetts on January 10, 1903, descended from a long line of Cape Cod ship captains, and his father was an artist and graphic designer. He studied painting at the St. Botolph Studio and the Boston Museum of Fine Arts School under Charles Hawthorne and Max Bohm and at the Grande Chaumiere and Ecole des Beaux Arts in Paris. Then at age 18, Whorf had a paralyzing fall from which he had difficulty recovering.
Whorf was awarded an honorary M.A. degree from Harvard University in 1938 and received a medal in 1938 and a prize in 1939 from the Art Institute of Chicago. He exhibited at the National Academy of Design annuals between 1945-1956 and 1958-1959.
Initially he painted in oil, but changed to watercolor. His first exhibition of fifty-two paintings, when he was age twenty, sold out. He traveled in Europe and the United States. Whorf spent the last years of his life in Provincetown, Massachusetts and was part of its art colony for many years. He died there in 1959.
Source:
Michael David Zellman, "300 Years of American Art"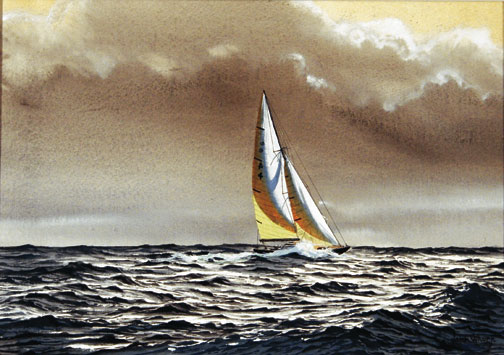 John Whorf, Untitled (Stormy Regatta), watercolor, 15 x 10.5 in. Private collection.