Nancy Whorf
(Born 1930 in Provincetown, MA)
Daughter of John Whorf (1903-1959), mother of Julia Kelly (born 1953), noted Florida artist.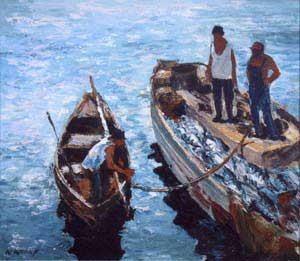 NANCY WHORF
"PERSONAL PROVINCETOWN: LAND AND SEA"
2007 Exhibit at Berta Walker Gallery
Nancy lived her entire life in Provincetown, coming to this Town as the young daughter of John Whorf. She was, for all intents and purposes, born with a paintbrush in her hand, starting to paint professionally at age 14 for the Peter Hunt workshop. Whorf continued throughout her career to develop her very personal, expressive, emotional paintings, weaving the narrative element through both subject and technique. She commented recently from her new home in Florida where she moved for health reasons. "I know Provincetown. There's a lot of information there. I think I got better at saying more with less. I wanted to simplify, to suggest."
Nancy Whorf is known for her vibrant, expansive Provincetown scenes. Her many views of the town, the narrow streets, the harbor and boats, snowy walks, hidden gardens, sunsets and storms are a testament to her love of this storied seaside town where she grew up. Whorf's philosophy of painting is a reflection of her way of living. The world goes around, some things change; some things stay the same; community matters; nature is true.
In some ways, Whorf has created a kind of visual memoir, for behind many of the paintings is a memory. Her eye focuses on the place she knew as a child and young woman - the busy life centered around the wharves when Provincetown was a vital fishing center. She says the work is "thoughtful and sentimental." But Whorf doesn't ignore the sometimes-harsh reality of living by the land and the sea. These are not just pretty landscapes.
Paintings in this exhibition include many paintings completed in the past ten years, and will feature "Welcome to Provincetown, Winter" and "A Fisherman's Garden, Winter", both four foot by eight foot wide. The paintings demonstrate Whorf's incredible love of the Provincetown in winter and were completed in her tiny studio on Howland Street where the studio was barely twelve foot wide. They also demonstrate that nothing was too challenging to try. The extraordinary beauty of Whorf's work is magnified by the truth she tells. In her characteristic brusque way, Whorf says, "I can't paint a pretty picture. I have to paint the truth I know." Provincetown is an emotional and visual place for Whorf.
In an interview with Suzanne Horoschak, Whorf said: "You feel, as a painter, that you have something to say. You understate it, overstate it. You have to have a certain philosophy about life and living and, for me, the wonder of it all. Cornball as this all may sound, it's marvelous and wonderful -- the seasons, the elements, and our interplay with them...I'm not making a political statement because it doesn't make any difference in the scheme of things. A plant or a storm, those are important, but the rest of it --it's all (part of) the highway of life. I paint what I feel has magic to it."
Over time, Whorf has refined her palette knife stroke to the merest twist of line, the touch of color, to express the mood, to suggest the whole world of Provincetown. "That's what I like about the palette knife. It's easier to suggest." The viewer is struck by the truth of place; but in the end, Whorf's work is really all about the paint. The rich, saturated color, the flick of the painting knife - she is a master.
After her studies and employment in the Peter Hunt workshop, Whorf wanted to explore her own painting more deeply and spent a year at the Museum of Fine Arts Boston Museum School, where she studied with Karl Zerbe. The influence of Charles Hawthorne can be felt from her studies with Vollian Rann and her father John Whorf. Since the late 80's, Whorf focused exclusively on her own painting. Prior to that she maintained a shop where she painted incredible folk art furniture as well as her formal paintings.
Her work has been exhibited extensivelythroughout the country and she has received numerous commissions from public and private organizations such as Lincoln Park Zoological Society, Tiffany's in Chicago, Abby Rockefeller, and other private individuals. Whorf has been included in numerous books and articles about master painters of Provincetown.
She was the subject of a one-person exhibitionat the Provincetown Art Association and Museum in 2001. At that time, she was designated by the Provincetown Selectmen "Nancy Whorf di Provincetown" honoring her unique and special art focused primarily in Provincetown. Both the Provincetown Art Museum and the Cape Museum of Arts in Dennis have presented exhibitions of The Whorf Family, expanding the shows to include Nancy's uncle and sister.
© Berta Walker Gallery
Represented by Berta Walker Gallery, 208 Bradford Street, Provincetown, MA 02657
tel 508 487 6411

www.bertawalker.com
info@bertawalker.com