Hans Hofmann
(Born March 21, 1880 in Weissenburg, Bavaria; died February 17, 1966, USA)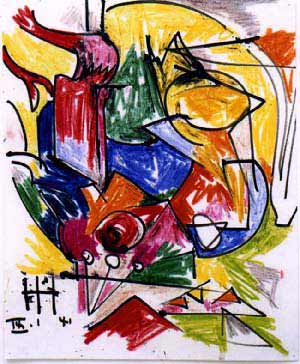 HANS HOFMANN AT THE METROPOLITAN MUSEUM OF ART
April 13 - October 17, 1999
Hans Hofmann's formal art training began in Munich in 1898. Through the patronage of Philip Freudenberg, the owner of a Berlin department store, Hofmann was able to go to Paris in 1904 to further his studies. While living there, he met Georges Braque and Pablo Picasso, and became friends with Robert Delaunay and Jules Pascin. Hofmann's early work, now lost, was shown in Berlin in 1909 with the Neue Sezession, and in Paris in 1910 in the gallery of Paul Cassirer. Kept out of the army during World War I because of a lung ailment, Hofmann opened an art school in Munich in 1915. For the next 53 years, Hofmann supported himself primarily through his teaching.
Hofmann influenced three generations of artists in Europe and in the United States. In 1932, reacting to an unfavorable political climate in Munich, he closed his school and settled in New York, where he taught for a season at the Art Students League before opening The Hans Hofmann School of Fine Arts. In the summers between 1935 and 1958, he conducted a successful summer school in Provincetown, Massachusetts. It is a mark of Hofmann's effectiveness as a teacher that many of his students — including Fritz Bultman, Ray Eames, and Lee Krasner — went on to achieve acclaim in their own right. The exhibition will include a selection of drawing by various Hofmann students done in his classes.
Even as he was teaching others, Hans Hofmann continued to pursue his own work, and the income from his schools allowed him to develop as an artist free from commercial pressures. Beginning in the 1940s, his paintings were shown frequently in New York galleries, including Peggy Guggenheim's influential Art of This Century, and his style — an extraordinarily dense and complex synthesis of Cubism and gestural abstraction (which he experienced as a young man in Paris and Munich) and of Abstract Expressionism (which he encountered upon moving to New York) — gained increasing recognition. Hofmann was over sixty years old when he held his first one-man show in New York in 1944, and the next two decades of his life proved to be the most productive of his career.
In 1965, Hans Hofmann created nine paintings as a tribute to his second wife, Renate Schmitz. These vibrant works, known as "The Renate Series," often are considered to be Hofmann's most important artistic achievement. Executed at the height of his career, they demonstrate the full force and broad range of Hofmann's distinctive style, which is sometimes categorized as "painterly abstraction."
Hofmann intended that these masterful and energetic pieces, among the last of his works, be kept together, and all nine paintings in "The Renate Series" — a gift by the artist's widow — now reside in the collection of the Metropolitan Museum.
"That Hofmann wished to emphasize the various ways in which he painted is evident in the range of style of the nine Renate paintings," wrote the late Henry Geldzahler, the Museum's first curator of 20th Century Art, in the catalogue to a 1972 exhibition of the series. "The miracle in these paintings is as much in the artist's sure sense of when to desist as it is in their fullness and richness. They are never thin or empty, nor are they ever fussed over. Hofmann knew when to leave a painting at the moment of greatest freedom. . . . The joy and force and confidence of the man I came to know in the genius, turbulent and shining as it was, under full control and at his command. It is these qualities that are evident in the Renate series."
[http://www.metmuseum.org/]
...
"When I paint, I improvise…I deny theory and method and rely only on empathy and feeling…In teaching, it is just the opposite, I must account for every line, shape and color. One is forced to explain the inexplicable." -- Hans Hofmann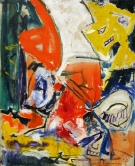 Cape Cod Museum of Art Receives Anonymous Gift of Hans Hofmann Painting

www.ccmoa.org
Hans Hofmann (1880 – 1966), renowned Provincetown artist and teacher, was considered by many to be the Father of Abstract Expressionism. He pioneered teaching of this new movement of modern art which catapulted America to the forefront of the world art stage in the middle of the 20th century.
Hofmann's paintings are held in many of the world's museums, and Cape Cod Museum of Art was recently given an anonymous gift of his work, "Untitled," an oil on canvas. In receiving the donation, Elizabeth Ives Hunter, CCMA executive director said, "We are delighted to have this fine example of this important painter's work. He contributed so much to the art of Cape Cod and to American art. This piece compliments our large collection of the work of his students. "Untitled" is a fine example of how Hofmann created surface areas of intense color that produce a dynamic tension between and among the forms, lines and textures."
Art Historian Al Kochka, CCMA's director of The Geissbuhler Project, added, "Hofmann motivated a mighty surge of creative artistic output that inspired an estimated 6,000 students whom he taught at his schools. So many of his students achieved careers in their own right."
From the mid-30's through the late 50's, Hofmann divided his time teaching between New York and Provincetown. Among his students whose work is in CCMA's permanent collection are: Paul Resika, Lillian Orlowsky, William Freed, Mary Kass, Selina Trieff, Robert Henry, Fritz Bultman, Tara Yamamoto, Myrna Harrison, Tony Vevers, James Gahagan, George McNeil, Sheila Burlingame, Erik Koch, Haynes Ownby, Peter Busa, Jo Sandman, Robert Beauchamp, Robert Fisher, Toni Laselle, Jack Larned, Earl Pierce, William Littlefield, Red Grooms, and Charles Kaeselau. These artists expand the meaning of Hofmann's influence and the vital interchange of ideas.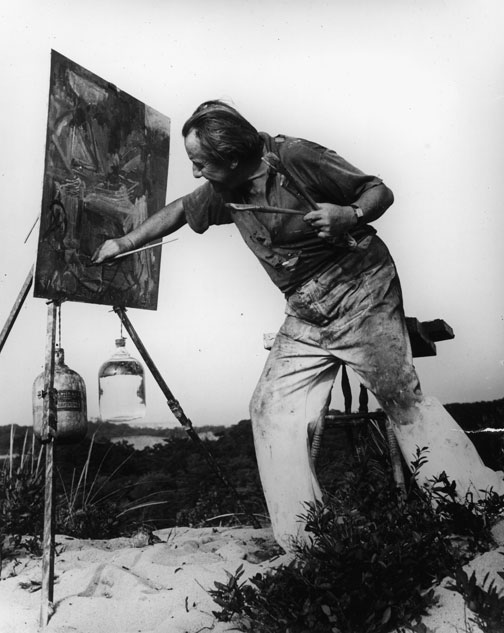 Hans Hofmann
PBS links to Provincetown Artist Registry!
Discover the master and pioneering educator who influenced generations (pbs special)